Dog rescued after 30ft cliff fall near Durdle Door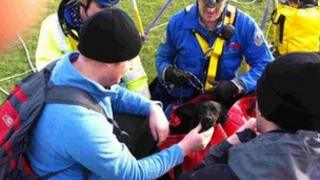 A dog that fell about 30ft (9m) from a cliff face in Dorset has been rescued by the Portland Coastguard.
The owners of a spaniel, Lily, called the coastguard on Sunday afternoon after the dog fell and became stuck on a ledge near Durdle Door.
Wyke and Lulworth Coastguard rescue teams used rope equipment and a bag to bring Lily back to the top, where she was reunited with her owner.
A coastguard spokeswoman urged owners to keep their dogs on leads.
She added that the coastguard "strongly" advised owners not to attempt to rescue their dogs but to call for assistance.