Spawning salmon double in Dorchester stream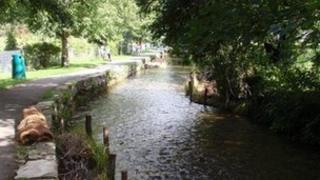 The number of salmon spawning in part of a Dorset stream are believed to have more than doubled after conservation work to improve the habitat.
Dorset Wildlife Trust said a survey found seven nest sites, known as redds, in part of Mill Stream in Dorchester.
In summer 2010, work was carried out to narrow a 450m stretch of the water, making it flow faster and cleaner.
The charity said previous surveys had only found three redds, which are about 2m wide and between 4m to 6m long.
A spokesman urged people not to wade into the river as it could damage the eggs.
The charity said the salmon return to the stream, part of the River Frome, from the North Sea and as far away as Greenland.
The eggs will hatch in the spring.