Unpaid Westwind II crew stuck on cargo ship off Dorset coast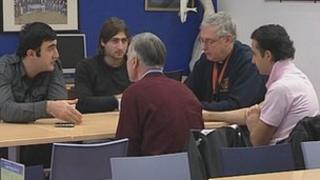 A seafaring charity says it is concerned for the welfare of the crew of a cargo ship that has been stranded for three months off the Dorset coast.
Westwind II got into difficulties during a storm in October last year and dragged its anchor before running aground in Weymouth Harbour.
The vessel was later "arrested" after claims its anchor had damaged commercial mussel beds in the harbour.
Apostleship of the Sea is trying to help five crew who remain on board.
They say they have not been paid any wages since last June and their families back home are also struggling.
A court official known as the Admiralty Marshall has arrested the ship, which means it cannot leave Portland port, but not the crew members.
Unpaid bills
Although they are free to leave they believe they will never be paid if they do.
Asim Aktay, chief officer, said he feared he may be arrested over unpaid bills if he returned to Turkey without his wages.
The Reverend Roger Stone, of Apostleship of the Sea, has been on board to visit the men to try to help them.
He said: "Life's pretty miserable actually for the crew because they have nothing to do all day.
"All they're really doing is waiting for their wages to be paid so they can go home.
"They're really having financial difficulties themselves, but more particularly their families back home in Turkey and Georgia are."
The captain left the ship several weeks ago but was unavailable for comment.