Dorset and Isle of Wight oil drilling plan set for 2014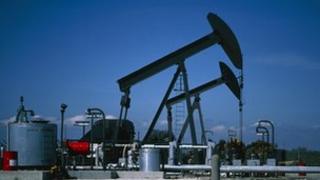 An oil company from Devon believes 100m barrels of oil may lie off the coast of Dorset and the Isle of Wight.
Barnstaple-based Wessex Exploration said it hopes to start drilling in 2014.
Chairman David Bramhill said if oil were found it would make "a world of difference" to the regional economy and create "a lot of jobs".
Geologist Ian West said a "major problem" would be trying to obscure the drilling rigs from public view.
Wessex Exploration and its Australian partner company Norwest had identified parts of the southern coastline as having the potential for oil deposits.
It paid $4m (about £2.5m) for new research licences to locate oil off-shore.
But government policy states that oil found within 10km of the shoreline has to be drilled on-shore, so the potential rigs would be based on land.
The sites are located close to Wytch Farm in Dorset - until recently the largest on-shore oil field in western Europe.
'Independent experts'
Mr Bramhill said: "A lot of people have been along the coast and seen the oil seeps coming out. There's been a few wells drilled since Wytch Farm and there's been a modicum of success."
Wytch Farm was producing 120,000 barrels a day but is now producing less than below 12,000 barrels a day.
Mr Bramhill said of the company's new exploration sites: "The experts independently have said we have 100 million barrels potentially, which is excellent."
Mr West, from the National Oceanography Centre in Southampton, said he was concerned about the visual impact of on-shore drilling.
"Wytch farm has been extremely successful environmentally, because it's been hidden in a forest. But where can you put a rig on Christchurch Bay or Poole Bay?"
Mr Bramhill said residents would see "very little," because the oil production and drilling would take place underground.