Poole's Twin Sails bridge 'open in weeks'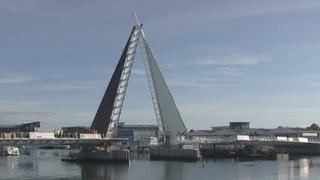 A £37m bridge in Dorset is to open next month, the local authority has said.
The first traffic will cross the Twin Sails Bridge in Poole Harbour on 27 February.
The lifting bridge spans Backwater Channel between Hamworthy and Poole port and will "unlock" 26 hectares of brownfield land for regeneration.
Borough of Poole council said it would mark the end of the 20-month project with a community event on the bridge.
Council leader Elaine Atkinson said: "I'm thrilled that Poole's Twin Sails Bridge is weeks away from completion and cannot wait to walk across for the first time.
"The bridge connects two communities and will ease traffic congestion in the town centre.
"It is a stunning symbol for the town's ambitions and will unlock Poole's regeneration potential for years to come."
Local guests will be invited to join the first group of people to walk across the bridge on Saturday 25 February.
Other residents will also be given the opportunity to cross the bridge on foot before it opens to vehicles.
The community event on the bridge will be held on 25 and 26 February.
A further official opening ceremony will also be held on 9 March.
Construction started in October 2010.
The bridge deck and lifting leaves are made up of 41 separate sections of steel which have been welded together on site.
The council believes up to 2,000 homes could be built on the brownfield land over the next 10 to 15 years.