Big Country drummer on launching his music career in Slough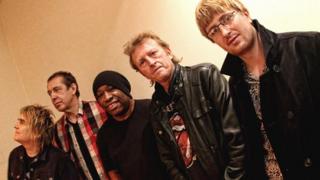 When Big Country drummer Mark Brzezicki takes to the stage at Reading's Hexagon theatre in February, he'll only be a few miles from where his music career first started.
"I was born in Slough and am based in Slough," says Mark, 54, who attended the town's St Joseph's Catholic High School.
"I started out playing prog rock, but that all got turned round with punk rock."
Brzezicki hails from a musical family, his Polish father was a trained opera singer.
The drummer cut his teeth playing at the William IV pub in Slough for four years, before the venue was bought out by a restaurant chain.
Mark then began playing with his two brothers as The Flying Brzezickis.
One day he answered a music paper ad for a drummer and teamed up with bassist Tony Butler and guitarist Simon Townshend - the brother of The Who's Pete Townshend - to form On The Air.
"We supported The Skids and met their singer Stuart Adamson," Mark remembers.
After The Skids split up in 1981 Stuart Adamson formed Big Country, but the Scottish band enjoyed little success until its initial line up was changed the following year and Mark and Tony Butler were invited to join.
Big Country supported The Jam at Wembley Arena and in 1983 they recorded their debut album, The Crossing, which went on to sell more than two million copies and defined their Celtic rock sound.
They sold 10 million records worldwide, and Adamson was hailed as one of the most influential Scottish rock musicians of the 1980s.
Adamson died in Hawaii in 2001, and frontman duties are now taken up by Mike Peters when the band reformed last year.
Big Country are now working on a new album, but will be playing the whole of The Crossing along with the B-sides of the singles as part of the band's 30th anniversary tour.