Bournemouth officer Craig Bartlett's knife attacker jailed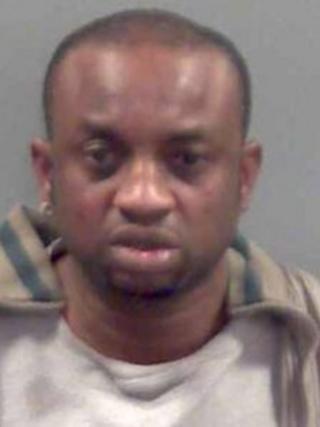 A drug dealer who stabbed a police officer in Dorset has been jailed for 25 years.
Michael Edward, 43, knifed 35-year-old PC Craig Bartlett twice as the officer carried out inquiries in Surrey Road, in the Westbourne area of Bournemouth.
The victim was taken to Poole Hospital with non-life threatening injuries.
Edward, of Surrey Road, Bournemouth, was sentenced at Bournemouth Crown Court after being convicted of attempted murder, in December.
The court heard that by February 2011, Edward had been under surveillance for several weeks.
On the night of 12 February, officers watched him outside his flat. Mr Bartlett challenged him, shouting "police, stop".
Edward, who earlier pleaded guilty to possession with intent to supply cocaine, was also told he would serve four years concurrently for the drugs offence.
Police said PC Bartlett was stabbed with a 16cm (6in) kitchen knife and suffered a 12cm (4.5in) knife wound above his hip and a 10cm (4in) knife wound to his left shoulder.
Following the attack, the officer was treated in hospital for several days but has since returned to duty.
'Dangerous job'
After the hearing, Det Sgt Wayne Seymour, of Bournemouth CID, said: "PC Bartlett sustained very serious injuries as a result of the vicious attack by Michael Edward.
"Thankfully he is now back at work, but the consequences could have been far, far worse.
"There was clear evidence, by way of damage to Craig's coat, that at least one further attempt to stab PC Bartlett was made."
Dorset Police Federation chairman Clive Chamberlain said PC Bartlett had been "extremely fortunate".
"Michael Edward was a criminal armed with a large knife - a weapon that he used in an attempt to kill a police officer who was carrying out his duty to protect his community," said Mr Chamberlain.
"This incident demonstrates what an inherently dangerous job police officers undertake each day and I hope that this sentence sends a clear message to anyone who may ever consider carrying a knife.
"I am pleased to say that Craig has made a full recovery and has resumed his valued work in Bournemouth - although we should not underestimate the effect that this incident has had on him, his loved ones and colleagues."