Stuart Semple opens Bournemouth and Poole College art centre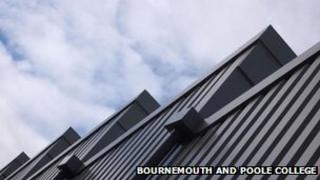 A £1m art and design centre in Dorset has been officially opened by one of the UK's top artists.
Stuart Semple opened the North Light Centre at Bournemouth and Poole College, where he studied in the 1990s.
College estates manager Colin Wills said it had been designed to give artists "soft and restful daylight".
Students began using the centre in North Road, Poole in November, working with fine arts, textiles and graphic design and print media.
Semple founded the Aubin Gallery in London and has worked with music stars including Lady Gaga and Debbie Harry.
He said: "This is really amazing, to come back to more or less where it all began for me and see what today's art students are up to.
"The old building where I studied was quite run down. In winter we often had to work in our overcoats it was so cold."
The North Light building is so called because of its saw-tooth roof which admits most of its light from a northerly direction to reduce glare in the studios.
"It looks fantastic inside and, as word spreads, I have no doubt it will attract some great young talent from our region," Mr Wills added.