Mudeford cancer mother wants same school for sons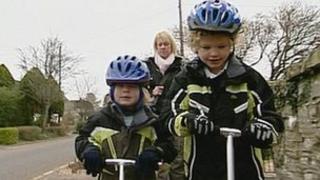 A Dorset mother who has cancer is pleading for her two young sons to be allowed to attend the same school.
Michelle Amey's son George, four, has been refused a place at Mudeford Infants School in Christchurch, where his brother Charlie, seven, goes.
The school is full and the family has moved just beyond the catchment area.
Dorset County Council has offered places for both boys at another school but it is further away and the family did not like it.
There are 12 children above George on the waiting list for Mudeford Infants School and the council said it would be breaking the law if it allowed him to jump the queue.
It has offered Ms Amey a taxi for George but that would mean he would be travelling to school alone.
Ms Amey was diagnosed with cancer five years ago.
'Very sensitive'
Last year a scan revealed tumours in her brain, liver and adrenal gland.
She is no longer allowed to drive and has to walk and ride a bus to get to both schools in the morning.
Her appeal against the council's decision was turned down.
She said of her sons: "They are very close. They know exactly what's going on with me and it has affected them.
"George is very sensitive, he's very different to Charlie, so for them to be in the same school would just mean so much to me.
"I can cope with my illness, I just can't cope with this any longer.
"It's just like banging my head against a brick wall."
John Nash, director of children's services at Dorset County Council, said: "It's been to an independent appeals panel, not council officials but independent people have looked at this and said: 'Well, the legislation is very clear. We cannot admit over 30 in this case to this school'."