Poole to Cherbourg ferry service ends for good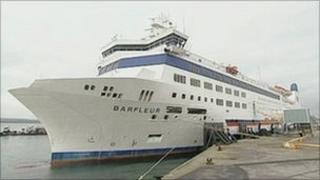 A cross-Channel ferry service between Dorset and France has been axed.
The Barfleur ferry, which ran between Poole and Cherbourg, was withdrawn in March 2010 but resumed on a trial basis in March 2011.
However, Brittany Ferries has decided to scrap the service for good, blaming difficult economic conditions.
A fastcat service operated by Brittany Ferries' partner, Condor Ferries, will continue to sail the route during summer months.
A freight service will also continue.
The Barfleur, which carried foot passengers, vehicles and freight, has been laid up while a decision on its future was made.