Bournemouth Conservative group to vote in new leader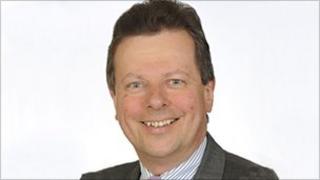 The ruling Conservative group at Bournemouth Borough Council has appointed a new leader to replace Councillor Peter Charon.
The group unanimously voted Councillor John Beesley as its leader. He will now be nominated as leader of the council.
Mr Charon resigned as leader of the council on 9 January following a vote of no confidence by his own party.
The Conservatives hold 46 of the 54 seats on Bournemouth Borough Council.
Mr Beesley will be nominated for council leader at a nominations board on 21 February.
Following the board there will be a special full council meeting at 19:00 GMT the same evening to appoint the new leader of the council.
The appointment will leave a vacancy for deputy leader of the party group and the council.
The Conservative group will vote for a deputy group leader on Monday, 27 February.
Mr Beesley will choose his deputy leader of the council on Tuesday, 28 February.
The BBC's Peter Henley said it was Mr Charon's "personal qualities" which had led to his downfall.
He said the council was an innovative council in line for an award for best practice, despite controversy over projects such as Boscombe surf reef.
Recently many staff at the council have been moved into sub-contracting roles with private company Mouchel, in a project overseen by Mr Beesley, he added.
"They have driven through these policies in a united way, it's just these personal differences," he said.
"The Conservatives are falling out with each other, not only in having no confidence motions, but getting the standards committee involved."
Mr Charon, who became leader in July 2010, has had an accusation of bullying upheld against him by the council's Standards Board.