Call to protect dogs near Dorset's cliffs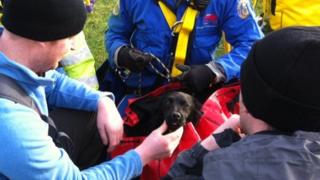 Dog owner Christine Carter and her son could only watch as their pet collie suddenly bounded over the edge of a cliff in Dorset.
He plummeted 60ft (18m) to the rocks below. They heard a yelp and then all went quiet.
The dog, Tommy, had discovered a gap in the gorse hedge by Old Harry Rocks at Ballard Down.
Luckily, the five-year-old survived, but he is one of 225 dogs who fell over cliffs along the UK's coastlines in 2011.
This year, HM Coastguard has already dealt with 17 dog accidents and deaths.
The figures highlight that lessons have not been learnt, despite a national campaign by HM Coastguard and the Dog's Trust to keep dogs on leads near cliffs or dangerous drops.
"You think you know your dogs and how they are likely to behave," said Mrs Carter, who had come from the Midlands to Dorset on holiday.
"He shot over the edge of the cliff in a split second. He is very lucky."
Dorset's coastguard team has dealt with 15 dog incidents along the Jurassic coastline in the past six months.
On 22 January, Lily the cocker spaniel fell 30ft (9m) down the cliff above Man O War Cove, east of Durdle Door.
Luckily she was saved by Lulworth and Wyke coastguard rescue.
However, a week before on 15 January, a missing Jack Russell disappeared from a cliff in Sidmouth and could not be traced.
And most recently on 5 February a dog was killed after disappearing off a cliff at Brandy Head.
The dog was found dead at the foot of a long drop.
"The most recent incident ended badly as do so many of them," said Portland coastguard watch manager Ros Evans.
"It is heartbreaking for the owners.
"We feel dreadful for the people who lose their dogs, but it can so easily be avoided."
A campaign last year aimed to encourage dog owners to keep their pets on a lead.
But the figures show the message has fallen on deaf ears.
Dog's Trust veterinary director Paula Boyden said: "It's one of those situations where we have to keep reinforcing that message".
Maddy Davey, another Portland watch manager, said holidaymakers may not have the local knowledge of the cliffs, but even the most well-trained dogs can suddenly dart off to chase birds and scents.
"They just don't seem to acknowledge cliff edges," said Ms Davey.
But why is this?
Ms Davey said there was a theory that dogs have difficulty judging depths.
Dog's Trust veterinary director Paula Boydon said the theory "was certainly possible", but that external factors were more the issue.
"A dog's eye sight is very different to ours, but much of the problem is that dogs get caught up in the moment," she said.
Coastguard search and rescue manager Roly McKie said: "The common incidents we see are where dogs have slipped or bounded over a cliff edge because they haven't anticipated the drop ahead."
And this is what happened to Tommy the collie.
But luckily his misjudgement had not killed him.
A member of the public had contacted the Portland coastguard after learning of the missing dog.
As the RNLI video footage of Tommy's rescue shows, the Swanage RNLI Inshore Lifeboat team found him at the base of the cliff, remarkably with only minor injuries.