Highcliffe Nursing Home 'expected notice of death'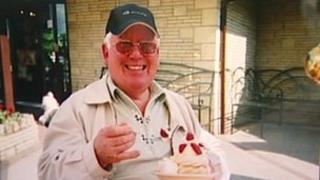 A woman has called for more rules on what care homes can demand after she was asked to pay £3,000 because she failed to give it four weeks' "notice" before her father died.
Sue Cann from Christchurch, Dorset, was charged the day after her father Kenneth's funeral last week.
She said she was "shocked" Highcliffe Nursing Home had claimed the money.
Officials at the home said they took "all matters of concern raised by residents and families very seriously".
In a statement, they added: "We will be responding directly to the people concerned.''
Mr Cann, who had dementia, died on 30 January, aged 79.
Ms Cann said the letter from the home, which is run by Kingsley Healthcare, demanding payment arrived the day after his funeral on 10 February.
She said it expressed sincere condolences and described Mr Cann as "a pleasure to care for".
However, it added: "In accordance with the contract for accommodation and terms and conditions that you have signed; a notice period of four weeks (28 days) is required in event of a resident moving out or passing away.''
'So callous'
Ms Cann described the care her father received as "very good" but said what followed showed "a lack of sensitivity".
She said: "If you move you give notice… but when you've died I think that is really so callous.
"These companies can draw up whatever contract they like. It needs to be perhaps more regulated.
"At least in death maybe [charge] just a week of expenses so they can get somebody else in so they don't lose out."
Ms Cann said her father's 17 months in the home had already cost £63,000.
The original contract was signed by her mother who died in March.
"Both my parents have died within a year and to have this on top is the last straw," she said.
Michelle Mitchell, charity director-general of Age UK, said: "Care home contracts should always make it clear if there is a notice period and what it includes.
"This is, understandably, a distressing issue for the relatives of those who die in care.
"Guidance on unfair care home contracts published by the Office of Fair Trading states that a home is expected to re-let a room as quickly as possible, and to provide a refund if it does so."
Sheila Scott, chief executive of the National Care Association, said Kingsley Healthcare's policy was not standard practice.
She added: "I would expect a week to 10 days.
"Time to clear the room, that's what the extra days should be for.
"I think some clear guidance for care homes would be helpful as this lady has been so upset and clearly the way it was handled with her was quite insensitive when the letter came quite early."
In a statement, Highcliffe Nursing Home said: "We value our customers and our association with the community at large of which we work hard to maintain an integrated and respected part.''