Bournemouth University opens new forensic science 'crime scene'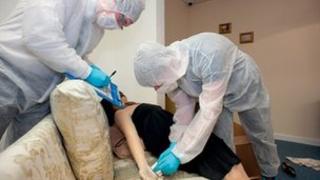 A new training building offering realistic scenarios for forensic science students is due to open in Dorset
Bournemouth University has used dummies to set up fake scenes including a "decomposing man on a bed and a woman strangled by her own tights".
A spokesman said the "very realistic" rooms also included an "illicit drugs den" and a "robbed bank".
The building will be available to students from Monday.
Alex Otto, demonstrator in forensic science at the university said the rooms would allow students on two undergraduate courses to "fine tune their practical skills such as finger printing and collecting forensic evidence in a realistic situation".