Occupy Boscombe protesters take over Dorset arts centre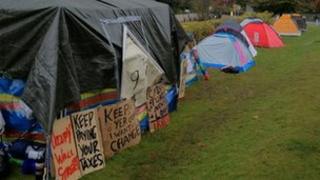 Squatters from the Occupy movement have taken over a community arts centre in Boscombe that is due to be partly demolished.
The protesters say they are trying to safeguard the building for local residents.
However, Bournemouth Borough Council says it wants use the land to build affordable family homes and a smaller site for community use.
The Boscombe Centre For Community Arts was created in 1878.
It was originally called the Boscombe British School and created by Sir Percy Shelley (the son of the poet Shelley) and leading Victorian non-conformist Frederick Moser for all the children of Boscombe in 1878.
The venue went on to become a venue for theatre and arts during the 20th Century.
'Fantastic job'
However, it has not been used since August 2007 and has been lying vacant ever since.
Bournemouth Borough Council says it wants to use the site to create 10 new family homes and a bungalow and what it describes as a "groundbreaking scheme" known as Gladstone Mews.
This would provide "space for the community to meet, communal gardens where fruit and vegetables can be grown and an arts and culture hub".
A planning application is due to be made within the next few days.
Katherine Edgar, a governor of the Friends of the Boscombe Centre for Community Arts, said the building should be used "for the community", rather than for "housing speculation".
She said the squatters had done a "fantastic job".
"They've cleaned it up, they've reclaimed it for the community."
Mandy, one of the protesters, said: "This building was given to the people of Boscombe and for the children of Boscombe.
'Support immense'
"I would hope to see this building stay as it is, given back to the community so that the community can use it for what intended for in the first place.
"The support is immense for the building. So many people have got memories here."
Bournemouth council said it would seek to evict the squatters with a possession order.
John Beesley, leader of the authority, said the council planned to set up a scheme for a "community land trust" which would provide "affordable housing for first time buyers".
He said: "The other part of the site with the listed building will not be removed.
"It is a listed building and it will be put into community use."