Britons return to Hungary to face trial after imprisonment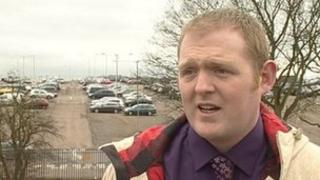 Two Britons are returning voluntarily to Hungary to face fraud charges after their business failed.
Michael Turner, from Dorset, and business partner Jason McGoldrick, from Devon, were previously held for four months in Budapest after being extradited from the UK in 2009.
Their time-share marketing firm collapsed in 2005, allegedly owing about £18,000 to Hungarian creditors.
They were previously released from the former KGB prison without trial.
'Very anxious'
Mr Turner, of Corfe Castle, said he was "very anxious" about returning to Hungary.
"They take everything away from you, they give you very little contact with the outside world. They lock you in a cell 23 hours a day," he said.
His father, Mark Turner, said: "My son has been investigated, extradited, imprisoned, persecuted, tortured and prosecuted in a process that has taken longer than that at Nuremberg.
"The British Government have let him down."
South Dorset Conservative MP Richard Drax said the whole case had been "one massive injustice".
"This charge has been pursuing him now for some years. The pressures on him and his family, financially, emotionally, physically, have been enormous".
The Home Office is currently considering its response to a review of European extradition arrangements.