Dorset charity's castaway trip 'changed' Stella Hopkins's life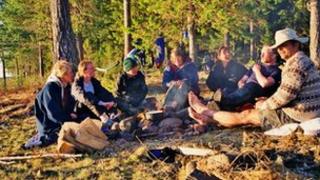 When Stella Hopkins signed up with a charity to spend nights in a makeshift shelter in a mystery location, "somewhere on the south coast", little did she know it would change her life.
The 61-year-old police administrator, who learned how to gut rabbits and ate garden snails during the fundraising challenge forDiverse Abilities, has since gone on to do more wild camping and canoeing in Sweden.
Mrs Hopkins said that spending five days as a castaway on an island off Dorset in 2006, during which she also learned how to navigate by the stars, gave her "courage and confidence".
"It was really challenging," she said. "We were teamed up with other people and given some canvas and string and some poles and told to make a shelter.
"We had to make a fire without using matches."
People also sampled live maggots during the challenge, which Diverse Abilities - set up to help people with profound learning and physical disabilities - is organising again, this September.
The castaway experience takes part in different places around the south coast, but it is always located in a remote, mystery spot.
Bags belonging to the "castaways" are searched on arrival for contraband such as confectionery, although mobile phones are allowed in exceptional cases.
"One of the girls sneaked in a chocolate bar," said Ms Hopkins.
"I had no chocolate for four nights, but I didn't want to leave.
"There were no outside noises, just nature, no street lights."
Ms Hopkins raised £1,000 for the charity and was awarded a prize at the end of the challenge, as the person who had benefited most from the experience.
'Long bath'
However, she admitted she enjoyed the night spent in a hotel at the end of the event.
"I had a long bath," she said.
"I stank of wood smoke. Thank goodness for wet wipes."
Since then, she has been on the further camping trip with those people she met during the challenge.
She said being a castaway had given her insight into her own character.
"Sometimes you don't really know who you are, until you're on your own away from family and friends," she said.
As a result of that insight, she is now about to go on a dog-sledding challenge.
Sharon Wells, of the charity, said taking part in the wilderness challenge was a "once in a lifetime experience".
"[It] is not only a great way to get back to nature and learn unique survival skills, but it is an opportunity to make new friends and share a fantastic experience," she said.