Lyme Regis lifeboat man retires from the sea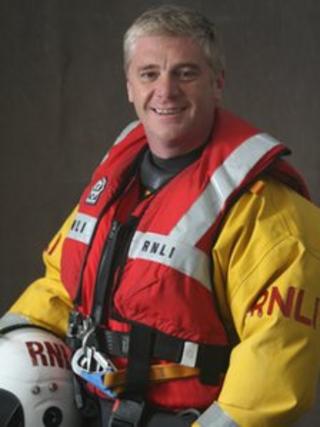 He has spent almost two decades saving lives on the open seas around Dorset.
But at 50, the oldest serving member of the Lyme Regis lifeboat crew, Rob Crabbe, is being forced to hang up his life vest and assist his crew mates from the land.
"No-one wants to give up something they love doing but I appreciate they are the rules," said Mr Crabbe.
"After this weekend practicing with the new boat my back is killing me anyway so I don't mind too much."
The Lyme Regis Lifeboat Station took delivery of a new £180,000 vessel at the weekend and it also held a surprise birthday party for Mr Crabbe to celebrate his 50th birthday.
It was a bittersweet event for the volunteer because the RNLI will not let crew go to sea once they reach that age.
For 18 years, volunteering for the RNLI has provided Mr Crabbe with a stark contrast to his day job as a financial service compliance manager.
'Sense of camaraderie'
He was born in the West Dorset coastal town and, after moving away for a while, he decided to join the charity when he returned to the area.
He said: "I came back and found a few friends on the crew and I wanted to get back into the community so I signed up.
"There is a real sense of camaraderie and you work with a range of different people.
"It's not for everyone, the guys have to be self-employed or have very understanding bosses because when that pager goes off you don't know if you are going to be away for an hour or two days."
None of the crew gets paid for what they do and, as well as the physicality of the job, they have to cope with some harrowing incidents at sea.
"It's very difficult," said Mr Crabbe. "You have a horrific one that you don't think twice about and then something simple comes back and haunts you.
"It's the tragic ones that you tend to remember unfortunately.
"In October I was involved in trying to rescue a young woman who died after her electric wheelchair fell into the sea at the harbour in Lyme Regis.
"Thirteen years ago I was involved in a two-day search for fishermen from Chard in Somerset, we went out every three hours for two days but couldn't find them.
"One of them was found six weeks later. It was totally calm when they went out. We'll never know what happened there, no-one will."
'Son joined up'
While he says there will always be people getting into trouble at sea, he is confident that the new Atlantic 85 class lifeboat will save lives.
"It's a larger boat with updated navigation equipment that will make it easier for us to help people.
"We can now carry four crew members safely and it can better handle rough water.
"It will set us up for the next 10 to 20 years and will inevitably save lives," he said.
He might not be in the boat when that happens but he will remain a vital part of the team as a registered tractor driver for the service who is qualified to launch the boat.
"Only four people can go in the boat anyway," he said. "But when that pager goes off 20 people turn up so it doesn't matter if you are the guy with the petrol can or the life vest on, you are still part of the team."
Looking back on his years of service he said it had been "brilliant".
"And my 19-year-old son has recently joined up," he added. "So I can live it through him."