In-debt duo now charge £400 a day to advertise on their faces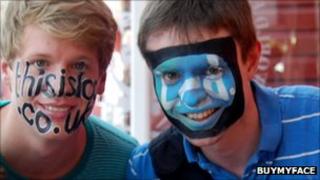 Two in-debt graduates who sold advertising space on their faces for £1 are now asking £400 a day, they say.
Ed Moyse from Poole, Dorset, and Ross Harper from Blackheath, London, set up their year-long project in October 2011 to pay off their student debt.
The Cambridge graduates, both 22, are now more than half way to reaching their combined £50,000 target.
Mr Moyse, who studied economics, said they were "absolutely ecstatic" at their success.
The duo started by selling their faces to friends and family, but said some larger companies were now buying their advertising space.
"It's bizarre," said Mr Moyes, "when we started out £1 a day was not a brilliant graduate salary for me and Ross but we just thought it was a lot of fun."
He added: "As time progressed it was £2 a day, then £3 a day. By the end of October it was £31."
In December they were able to charge £100 a day, and this month the fee has gone up to £400.
Recently one betting company offered them £1,000 for one day's advertising and an accountancy firm paid for them to go on a skiing trip with 3,000 students and advertise there.
They have now earned more than £31,600 and hope to reach their target by the end of the year.