London 2012: Royal Manor students report on Olympic plans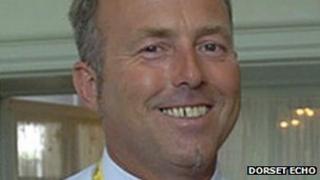 Students in Dorset have been speaking to one of the people behind the Olympic legacy project about what will be left in the county after the 2012 Games.
BBC News School Report pupils from Royal Manor in Portland spoke to Gary Fooks, deputy head of the Weymouth and Portland operation team.
Weymouth Bay and Portland Harbour was the first Olympic venue to be finished.
Mr Fooks said the extension of the Olympic sailing academy would not have happened were it not for the Games.
A new £90m Weymouth relief road has also opened, and a marina has been built.
Mr Fooks said 95% of residents on Portland "accept the Olympics".
He also told the student reporters it was a "once in a lifetime opportunity" and would only last two weeks.
The 46-year-old took up his post in 2007. He is a keen sailor and has also rowed across the Atlantic Ocean in a boat he built himself.
Once looked 'derelict'
The original plan to house athletes on a cruise ship moored at Weymouth Bay was dropped in favour of a housing development on Officer's Field.
The field was part of the naval base HMS Osprey until 1998.
Mr Fooks said: "25% of the housing on the Officers Field will be used for social housing, helping to solve the housing problems on the island."
He added there would also be a boost to the economy and infrastructure and that transport projects had benefited.
The students asked Mr Fooks what the island was like now and what it used to be like.
He told them it had once looked "derelict" but there had been a change for the better.
He said: "The oil tanks have gone from the beach road to make way for businesses."
BBC News School Report gives 11-16 year-old students in the UK the chance to make their own news reports for a real audience.
The next News Day is Thursday 15 March 2012.