Bournemouth council contractor misspells 'business' on sign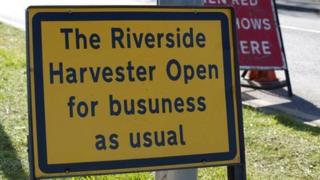 Council officers have discovered a sign which misspells "business" has been put up at the scene of roadworks on a Dorset bridge.
The roadworks sign is displayed near Tuckton Bridge, Christchurch.
Ian Kalra, head of transport at the council, said the word had been misspelt by a contractor and would be corrected "as soon as possible".
The 100-year-old bridge has been undergoing extensive repairs since the beginning of March.