Weymouth businesses face parking permit price rise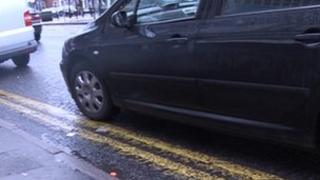 Weymouth businesses are facing a "huge rise" in the cost of parking permits from this weekend.
Traders who have to park on double yellow lines to make deliveries will be charged either £10 or £5 a day from Sunday rather than £56 per year.
Weymouth and Portland Council said some tradesmen had been abusing the old scheme.
But businesses fear a drop in trade and loss in customers because of the increased cost and inconvenience.
Steve Crosby, who runs Crosby Carpets in Weymouth town centre, said: "It's a huge rise in cost.
"It costs £10 for the first day and then £5 per day if you're working on the same site two or three days in a row.
"But most of our jobs delivering carpets don't last longer than a day at a time so effectively, we're paying £10 each time.
'Not fair'
"Come Monday, we don't really know what we will do about it.
"I've already moved a job that was planned for next week forward to this week, otherwise we would have to pass the extra charges on to our customers.
"In these tough times, we don't want to do that as it's just not fair."
The council has defended the new scheme, saying it will replace three previous ones that were running at the same time.
Christine James, transport brief holder for Weymouth and Portland Council, said: "Previously, we had some some businesses in town paying different amounts to park and they were able to use any car park they wanted to away from their premises.
"This is trying to wheedle out some tradesmen who were taking the mickey and abusing the system.
"Perhaps if tradesmen had been more responsible, we wouldn't have had to replace it."
Businesses are discussing holding a possible demonstration at the town hall next week.