New lights installed on Weymouth seafront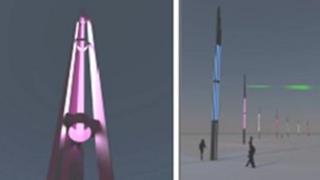 A new lighting display has been installed along the promenade of a Dorset seaside town.
The "veils of light" columns were fitted along Weymouth seafront late on Monday and Tuesday and will be tested over the next week.
The seven 15m-high colour-changing lights are located between Alexandra Gardens and the Pier Bandstand.
Beams of light emitted from the columns will be directed across the beach and into the sea.
The scheme is part of a £2.5m seafront regeneration programme ahead of the 2012 Olympic sailing events, which are being held in Weymouth and Portland.
Head of Weymouth and Portland 2012 Operations Simon Williams said the new low-energy lighting design was sympathetic to the historic backdrop of the promenade.
He said: "We understand that the old lighting system along Weymouth seafront was popular with some people, but the light bulbs were becoming unavailable and the system was extremely inefficient to operate, costing many thousands of pounds each year in both maintenance repairs and electricity costs.
"As a result of being exposed to all weathers, the light bulbs had always been prone to breakdown and operational difficulties as well as being expensive to operate. Furthermore they were only lit for some six weeks each year."
The council said the veils of light will be officially "launched" in May when testing is complete.