Sonic boom helicopter alert investigated by government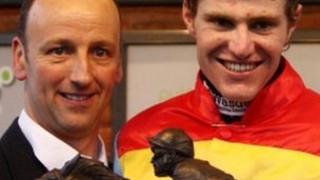 A false hijack alert in which two Typhoon jets caused a sonic boom is to be investigated by the Department for Transport (DfT).
The jets were responding to a distress signal from a helicopter when they caused the sonic boom, heard in the West Midlands, Oxfordshire and beyond.
Turbulence from the aircraft spun the helicopter, which had been travelling from Merseyside to Dorset.
A DfT spokesman said it would look into how the signal came to be broadcast.
"We will be looking into why the emergency signal was triggered," he said. "We need to work out what happened and the circumstances surrounding the incident."
No timescale was given for the length of the investigation.
Racehorse owner Anthony Knott, 47, and his family, from Sturminster Newton, Dorset, were being flown home from Aintree last Thursday, when the helicopter they were in sent a distress signal.
Emergency services in the West Midlands, Oxfordshire and south-west England received numerous calls at about 18:10 BST about the loud bang caused by the Typhoons, which had been authorised to go at supersonic speed.
The helicopter was flying near Bath when it was intercepted.
Mr Knott told the BBC: "All of a sudden this plane came from underneath us. The turbulence sucked us round 30 degrees and the pilot said we were lucky to be alive."
The MoD confirmed the aircraft had been responding to an emergency call from a helicopter.
It later said the pilot had transmitted the wrong signal by mistake.