Poole's Twin Sails Bridge to close for more overnight repairs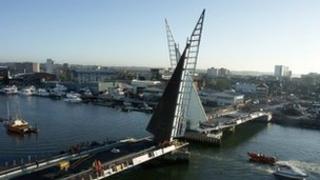 Dorset's new Twin Sails Bridge will be closed for more overnight repairs to address "teething issues", Poole Borough Council has said.
The new £37m lifting bridge had closed on Wednesday night to test the control system and fix hydraulics systems.
A council spokesman said additional night time closures were needed to repair "problems" including those with the traffic barriers.
He added: "We are confident it will cause minimal disruption."
The bridge had originally been due to open in February but emergency repairs were needed when parts of the road surface fell away while the structure was raised.