Heroes Haven Swanage opens for combat heroes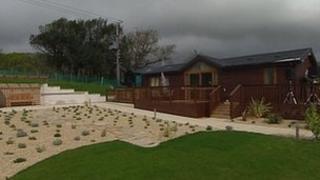 A log cabin has been built on Dorset's Jurassic Coast to accommodate severely disabled members of the armed forces.
Heroes Haven in Swanage was launched following an email from the mother of amputee soldier Jack Otter, 21, who always enjoyed holidays in the town.
Helen Otter had written to Swanage Regatta Carnival, asking if there was a caravan that could meet his needs.
Her email sparked a campaign in which £250,000 was raised to build the cabin, which can sleep up to six people.
"This will always have something for soldiers and veterans and I hope Jack will be coming here for years to come with his own family" Ms Otter said.
'Easy and relaxing'
Speaking at the opening, Mr Otter said: "I was planning on coming down here after the tour in 2010 but then I got injured [and] I was doubtful an old seaside town would be accessible.
"It's easy, relaxing, close to the beach, and especially for young men and women who have been injured with young families, just to come down here, it's nice and chilled out."
Ms Otter said there was over "200 amputees now, and their families" who could use the facility.
The 41ft by 20ft (12.5m by 6m) timber lodge has extra wide doors for wheelchair access, lowered kitchen worktops and a specially adapted wet room among its features.
It will be open for 50 weeks of the year for injured soldiers and their families.
Following planning permission by Purbeck District Council, the Talbot Village Trust awarded the Heroes Haven Swanage charity with a £30,000 grant.