Night watch starts at Dorset church after £10,000 lead theft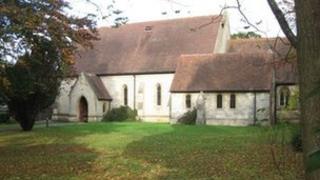 Congregation members at a Dorset church are going on night-watch after £10,000 of lead was stolen from the roof.
St John the Baptist Church in Broadstone was targeted on two successive nights, following a £100,000 refurbishment this month.
Damage to the roof left water pouring into the main aisle of the church.
"We've got members of the congregation [checking] up on the church every 15 minutes during hours of darkness," church warden Chris Walton said.
"Whoever is on duty will either park in the car park and observe the church, or they'll observe from the church office, adjacent to the church.
'Catch in act'
"It has come to this because the police are adamant that the thieves will be back so we're determined not to let it happen again. We want to catch the thieves in the act."
Mr Walton stressed the congregation had been advised to contact police if they witnessed criminal behaviour, as opposed to tackling suspects themselves.
The thieves stole lead from the church roof on both 18 April and 19 April.
The hole in the church roof is currently covered by tarpaulin but water is still leaking into the Lady Chapel.
"We've had to rearrange all the buckets collecting water inside the church," Mr Walton continued.
"We've only just had the church redecorated and had new lighting installed, but now we've got dirty brown marks around the decorations and it has got into the lighting."
Church members are waiting for a builder's estimate on the repairs but Mr Walton believes the damage will run into "thousands of pounds".