Emily Longley trial: Boyfriend 'lacked remorse' over death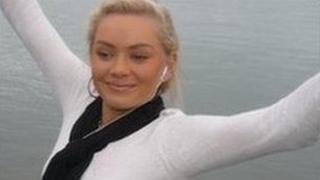 A Dorset man accused strangling his girlfriend in a jealous rage has been accused in court of not showing remorse over her death.
Elliot Turner, 20, said he did show remorse to his mother and to friends, and claimed to have been "cut up" about the death of Emily Longley, 17.
The aspiring model and student was found dead in Mr Turner's bed at his house in Bournemouth, Dorset, last May.
At Winchester Crown Court Mr Turner, of Queenswood Avenue, denies murder.
The prosecution alleges that Mr Turner killed her because he believed she had been seeing other men.
He claims she attacked him during an violent argument and he then grabbed her around the neck for five or six seconds to defend himself.
He then went to sleep and found her dead in his bed when he woke up on 7 May 2011.
Giving evidence for a third day, Mr Turner told the court he had "really loved Emily" and wanted the best for her and that she had loved him.
'Died mysteriously'
Under cross-examination from Tim Mousley QC, he denied he had been manipulative or obsessive about her.
When asked if he was "in any way responsible for her death", Mr Turner replied: "No, I do not believe so."
Mr Mousley continued: "So the girl you adored died mysteriously?"
Mr Turner replied: "I don't know. I'm not a psychic."
Mr Mousley asked: "Have you shown any remorse at all for her death? I'm talking about a basic human instinct. What remorse have you shown?"
"I feel sad," Mr Turner replied.
"I had to contain myself because you're answering questions. In this courtroom it's been a weird nightmare."
Mr Mousley also went through a letter Emily wrote to Mr Turner when they went to the Isle of Man, in which she asked him to stop threatening to kill her and not to be so aggressive.
She said his behaviour reminded her of a previous relationship where a boyfriend had put a knife to her throat.
Mr Turner said he had never done anything like that.
"You made that young girl scared didn't you?" Mr Mousley asked.
Mr Turner replied: "I did not deliberately go out to make my girlfriend scared."
Mr Turner also denies perverting the course of justice. His parents Leigh Turner, 54, and Anita Turner, 51, also deny perverting the course of justice.
Police bugged the family home of Mr Turner, who runs a jewellery shop in which his son works part-time, and recorded him saying that his son had "strangled her".
The trial continues.