'Wasp in car' no seatbelt excuse by motorist in Dorset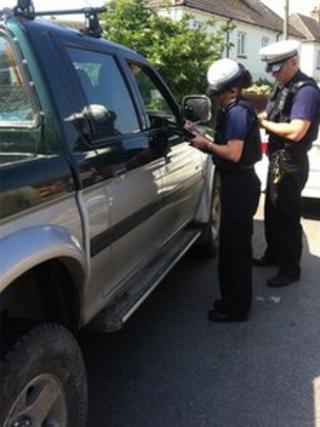 A motorist stopped by police in Dorset for not wearing a seatbelt told officers it was because he was trying to avoid a wasp in his car.
This was just one of almost 170 motoring offences detected by Dorset Police in Dorchester, on Wednesday, in their latest "Surround a Town" event.
Another driver caught on his phone while driving, claimed it was his wife's fault as she kept calling him.
Officers caught another motorist at 129mph on the Tolpuddle Bypass.
Of the 167 offences detected, 124 were for speeding, 27 were for not wearing a seatbelt, while seven were for driving while using a mobile phone.
Other motoring offences detected included vehicles being driven with no MOT, insurance or tax and cars being driven with bald tyres.
When the event, part of the "No excuse" road safety campaign, was held in Dorchester in 2010, 287 motoring offences were detected.
Injury figures down
Brian Austin, "No excuse" project manager, said: "Hopefully this reduction in offences shows that our road safety messages are being followed by motorists."
The force launched their "No excuse" campaign in January 2010, to reduce the number of casualties on Dorset's roads.
More than 24,000 driving offences have been recorded by police since the campaign began.
The number of people injured in traffic collisions on Dorset's roads was reduced by almost 100 in 2011.
There were 2,494 road traffic injuries in the county last year, compared to 2,588 in 2010, Dorset Police said.
But in 2011 there were 19 fatal injuries, an increase of one on the previous year.
The Dorset Road Safe scheme is run by agencies including Dorset Police, Dorset Fire Service and Dorset County Council.