No dive to find missing bodies of Weymouth fishermen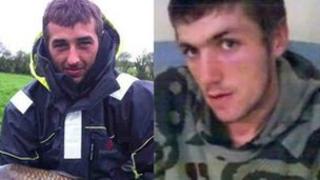 Police will not be diving to the wreck of a whelking vessel which sank off the Dorset coast in order to try to find the bodies of the two missing crewmen.
The Purbeck Isle was reported missing at about 18:00 BST last Thursday.
The body of David McFarlane, 35, was discovered on Friday but crew members, Robert Prowse, 20, and Jack Craig, 21, are still missing.
A police spokesman said: "There are significant safety concerns with diving to this depth and at this location."
Last week the survey ship Odyssey Explorer discovered the wreck of the Purbeck Isle lying 10 miles off Portland at a depth of 50m.
The police said they did not think it was likely that the bodies of the two missing men were resting with the wreck of the boat.
Det Insp Jez Noyce said: "We have considered the families' wishes in making this decision today.
"We hope that members of the public will also respect the families' wishes to leave the wreck as a memorial to their loved ones."
The inquest into the death of David McFarlane was opened and adjourned on Wednesday.