Figures reveal new businesses starting up across Dorset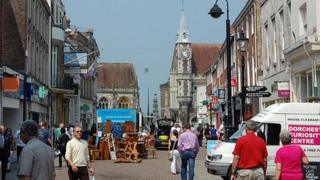 Dorset is bucking the national trend and defying the double-dip recession as more new businesses start up.
Figures from Companies House showed record numbers of new businesses were registered in the county in March and April.
Dorchester saw 40 new businesses set up across the town in March alone, the most for any month in the county town for nearly a decade.
The feel-good factor extends to other parts of the county. In Weymouth, 54 new businesses were created in March and April while Bournemouth broke its previous April record by 27% as 132 companies started up.
The figures, collated by Duport Associates, are even more impressive when taking into account the economic climate and news this week that the UK economy shrank by 0.3% in the first quarter of 2012.
Inward investment
So what makes Dorset such a hot-bed for new business?
Matt Pye, chairman of Dorchester Chamber of Commerce, believes investment in the local infrastructure and economy has created an optimistic climate.
He said: "Lots of money is currently being spent in Dorchester with the second phase of the Charles Street redevelopment and the work going on at Brewery Square just two of the examples.
"On top of that, there's also the new relief road from Dorchester to Weymouth and a host of new developments going on there in the town and in Portland.
"Historically, Dorset was seen as one of the less attractive places to be as a business. But, people have realised that Dorchester in particular is an historic, bustling market town.
"We're not looking to take businesses and shops out of the town, but instead put them back in."
Passion and belief
Setting up a business can be a daunting experience, both financially and emotionally.
But passion and belief appear to be two things an entrepreneur needs in order to make a go of it.
Mark Anderson and David Hicks opened Weymouth visitor attraction SandWorld last year.
Mark, 46, and David, 50, decided to turn their passion for sand sculpting into a business after realising its potential to capitalise on the town's tourist trade.
Mr Hicks said: "For a long time, Mark had wanted to build on Weymouth's tradition for people setting up areas on the beach and doing sand sculpting in the busy summer season.
"It's something that's been in his family since the 1920s, so he really wanted the chance to showcase some world-class standard sculptures in Weymouth."
Thanks to a mix of private investment and support from the bank, Mark and David were able to open for business in March last year.
The seasonal business - which opens between March and November - employs 10 part-time staff.
Mr Anderson added: "Dorset is definitely a favourable environment for setting up a business.
"There's a lot of wealth in the county and it's also a glorious place to live and work. But, we really believe strongly in what we're doing and want to showcase our work to the world.
"That pride and passion, and a bit of blind faith, really help you when you're setting up a business."
Financial fitness
Also finding financial favour from Dorset's outdoor environment is Liam Johnson, from Bournemouth.
The 34-year-old physiotherapy graduate set up Academy of Exercise Studies last April to provide fitness and gym instructor courses.
Having weathered a tough first nine months, Liam and his two business partners are now nurturing graduates and apprentices into careers in the fitness industry.
Mr Johnson said: "You have to have faith in what you're doing.
"After setting up on a tiny amount of money, just £4,000, we are now in a position where we're continually building our profile.
"A lot of our work is now coming from referrals, so getting your name out their and marketing your brand is really important.
"Finding people with a range of skills and expertise is also valuable.
"It's helped us immensely with things like setting up a website as we've been able to save a substantial amount of money doing that in-house."