Boscombe surf reef firm ASR misses repair deadline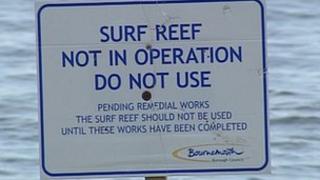 A deadline for repairs to Dorset's artificial surf reef has passed, with the company responsible for building it still not on site.
ASR had been due to return to Boscombe to complete remedial works to the £3.2m attraction by 31 May.
The reef, which was finished in 2009, has been closed since March 2011 after being damaged by a boat propeller.
Bournemouth Borough Council declined to comment on its arrangements with ASR.
In a statement, the council's tourism director, Mark Smith, said the Conservative-led authority was focusing on an insurance claim for the damage to the reef.
He said no decision would be made on the council's contractual relationship with the New Zealand-based firm until the claim had been resolved.
He said: "The council remains committed to Boscombe and further enhancing the contribution the reef has already made."
The BBC tried to contact New Zealand-based ASR and its managing director Nick Behunin, but the company has so far not responded.
With no sign of work going on at the reef, one councillor has called for it to be demolished. Ben Grower, of the Labour group, said the reef was a danger to swimmers and surfers.
The underwater structure was created to enhance waves using 55 giant sand-filled bags, which are 740ft (225m) out at sea.
It opened in November 2009 after lengthy delays and running over budget.
It was previously criticised for not working properly, and a specialist report by an academic at Plymouth found the reef had not achieved all its objectives.