New Weymouth seafront lights switched on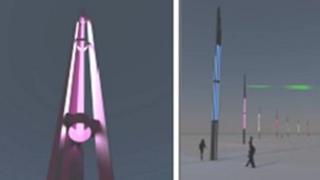 A new lighting display along a Dorset seaside promenade has been switched on.
The artist-designed Light Veils, consisting of seven 16m-high illuminated columns, have been installed along Weymouth seafront.
Beams of light from the columns, which turn off and on every six minutes with a different display, will shine across the beach, into the sea.
An official switch-on ceremony, led by Weymouth and Portland mayor Margaret Leicester, was held on Thursday night.
The lights will operate until 01:00 BST in summer and midnight in winter.
Phaophanit and Oboussier
Earlier, Weymouth and Portland Councillor Andy Blackwood said: "We have seen them being tested but I don't think we have seen them in all their glory so Thursday night will be the first opportunity for people to see just what the new laser lights are going to look like.
"Inevitably people have become attached to the old coloured lights along the seafront and I understand that. What I would say is for people to reserve judgement until they have seen the laser lights are working properly."
The installation was designed by artists Vong Phaophanit and Claire Oboussier.
The scheme is part of a £2.5m seafront regeneration programme ahead of the 2012 Olympic sailing events, which are being held in Weymouth and Portland.