Memorial service remembers lost Purbeck Isle fishermen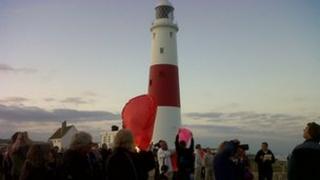 A memorial service to three fishermen lost at sea off Dorset has taken place.
David McFarlane, 35, Jack Craig, 21, and Robert Prowse, 20, were onboard the Purbeck Isle, a 30m crabber vessel which went missing on 17 May.
About 200 friends, relatives and local residents gathered to pay their respects to the crewmen at the service at Portland Bill.
A motorcycle procession travelled from Portland Bill to Weymouth, where the vessel was based.
The service, at 20:30 BST on Friday was followed by the launching of "prayer lanterns" into the sky.
Of the three men lost in the tragedy, only one has been found. The funeral of Mr McFarlane, the boat's skipper, took place in Weymouth on Wednesday.
The wreck of The Purbeck Isle was discovered by survey ship Odyssey Explorer 10 miles south of Portland Bill at a depth of 50m.