Lyme Regis coastal protection work to start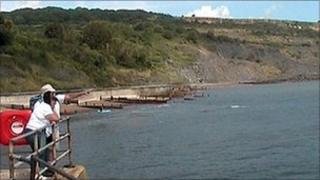 Major construction work to protect part of a Dorset town from coastal erosion will begin in 2013, according to the local council.
The project to protect the eastern part of Lyme Regis, on the Jurassic Coast, has already begun with ground surveys and preliminary work taking place.
West Dorset District Council said construction, expected to start in the spring, would last about two years.
The work will protect 480 homes and the main road into the east of the town.
Engineering works have already been carried out to protect other parts of the town, including the construction of a new sea wall and promenade.
The latest phase of protection works will be paid for with £14.6m of Defra funding, £4.27m from Dorset County Council and £600,000 from West Dorset District Council.
A new 390m (436 yards) section of sea wall will be built and the steep slopes at Church Cliff and East Cliff will be stabilised.
Robert Gould, leader of West Dorset District Council, said: "Lyme Regis is on an actively eroding stretch of coast and faces huge challenges from coastal erosion and consequent land slips, which is why this work is so important.
"The scheme will protect the eastern side of Lyme Regis. Without it, substantial areas of housing and the main road into the town would be lost over the next 50 years."
In May 2008, about 400m (1,312ft) of cliff slipped between Lyme Regis and Charmouth, exposing an old landfill site.