Corfe Hills School in Dorset uses yurt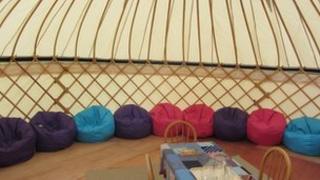 A school in Dorset is encouraging children to read - by taking classes in a yurt.
The wood-framed structure is more commonly used by the nomadic tribes of central Asia.
But the head teacher of Corfe Hills in Broadstone, Alan Hinchliffe, said the yurt made a "beautiful and unusual" reading space.
The £9,000 tent in the school's courtyard was also cheaper than a portable classroom.
Mr Hinchliffe said: "It's already tremendously popular with the pupils and it's got a wow factor that we hope will stimulate reading."
He added: "I've heard about yurts being used in other schools and thought it would be a pragmatic and cost-effective way to create a new and unusual space at the school."
The yurt which is about 25ft (7.6m) across can take up to 25 pupils and has plug sockets to allow heating, lighting and a computer.
Corfe Hills School has about 1,500 pupils and is regularly oversubscribed.
The aim is to keep the yurt for about five years but Mr Hinchliffe said that if it did not work out it could easily be taken down and sold on.