Dorset arts funds to remain beyond Cultural Olympiad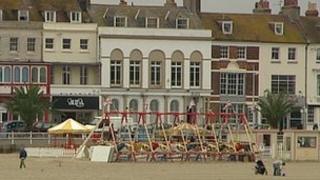 Arts funding in Dorset will continue beyond the Cultural Olympiad, experts say.
The Arts Council has promised secure investment in a number of projects until 2015.
More than £2.3m has been made available for arts as Weymouth and Portland prepares to host the sailing and windsurfing at the 2012 Olympics.
Critics fear money will dry up once the games finish amid the backdrop of cuts to arts projects nationally.
Local schools and community groups are gearing up to play their part in the festival surrounding the games, but some projects have attracted controversy.
Nowhere Island will be a floating, visual sculpture anchored off Weymouth and Portland during the Olympics.
Towed behind a boat, it will house tonnes of material salvaged from a retreating glacier north of Norway.
'Astonishing folly'
The Arts Council hopes it will open up a debate on Global Warming.
South coast MP Geoffrey Cox believes the £500,000 could have been better spent elsewhere.
He said: "I would have much rather seen individual artists and community arts being supported rather than the astonishing folly this project appears to be."
In defence, Gillian Taylor from the Arts Council said: "We're confident that there's very many people who will benefit from this.
"It will transform their everyday lives and the legacy will be created for future generations.
"We're committed to a number of projects across the county until 2015 and we're working closely with local authorities to focus on the best individuals and organisations.
"Those kind of things will help put Dorset on the map and make it a desirable place to come and visit."