Portland bell rung to mark start of Rio Earth Summit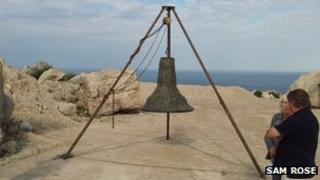 A bell cast from Portland stone has been rung on the site of a planned Jurassic Coast nature observatory.
The Mass Extinction Monitoring Observatory (MEMO) will act as a "living monument" to 17,000 global species under threat of extinction.
The project was launched with the ringing of a "geological bell" on the day the Rio+20 Earth Summit began.
The site at Bower Quarry will cost £20m to build. Planning permission was granted in February.
Sebastian Brooke from the project said: "World leaders are gathering to work out how we can sustain our planet for the next generation.
"The MEMO project has been kept quite local until now, but it's important we raise awareness at critical times like this and get more people engaged."
Portland screw
Visitors were invited to ring a 4ft (1.2m) diameter bell to coincide with the start of the Rio Earth Summit.
It will be rung every time a species is confirmed extinct.
Once complete, the observatory will overlook the Jurassic Coast with a design based on the characteristic of a localised fossil, the Portland screw.
Made from white Portland stone blocks, each one will be individually carved to mark the 850 species lost since 1662.
Mr Brooke said: "Portland has always been the place where we wanted to build this monument.
"It brings together the geology of the Jurassic Coast with what we believe will be some stunning architecture.
"We're aspiring to build a global monument here and I'm confident it will rise to the occasion."