Flotilla of boats sail to Purbeck Isle wreck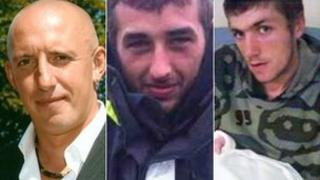 Family and friends of the three fishermen who died when their vessel sank off the Dorset coast have sailed to the site of the wreck.
They laid flowers in the water in memory of David McFarlane, 35, Jack Craig, 21, and Robert Prowse, 20.
The Purbeck Isle was reported missing on 17 May when it failed to return to Weymouth. Its wreck was discovered 10 miles south of Portland Bill.
The boats sailed from Weymouth harbour on Sunday evening.
Of the three men lost in the tragedy, only one has been found, skipper David McFarlane's body was found at sea the following day.
Survey ship Odyssey Explorer found the wreck of The Purbeck Isle with its life-raft still on board at a depth of 50m.
The flotilla formed part of a day-long event which included music and a charity auction on the harbourside to raise funds for the Purbeck Isle Memorial Fund.