Occupy Bournemouth protesters face eviction warrant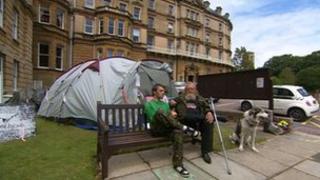 Protesters camped outside Bournemouth's town hall are facing further legal action as the council attempts to remove them from the site.
A borough council spokeswoman confirmed it had applied earlier for a warrant for their eviction.
The Occupy Bournemouth activists have not left since the council obtained an immediate possession order from Bournemouth County Court on Friday.
Nine tents were put up on lawns outside the offices on 25 June.
The protest began hours after the end of a previous eviction order.
Demonstrators from the same group were previously moved on from the town hall in November 2011.