Convicted murderer Charles Hanson on life after prison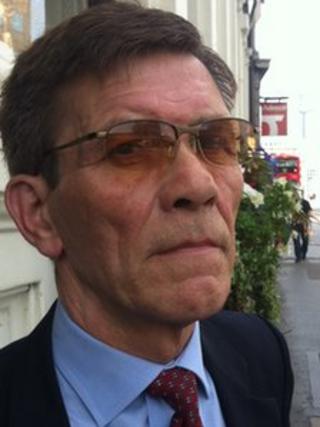 Winter 1995 was to be a time that would ultimately define the life of Charles Hanson.
On a February afternoon in Bournemouth, he stabbed ex-wife Julie Hanson three times in the chest with a seven-inch kitchen knife outside her front door.
That single act of violence marked the culmination of months of rage built up inside of him after learning his estranged son from a previous marriage had been having an affair with her.
The 66-year-old admits he originally set out that day to stab his son who had launched a campaign of harassment against him in the months before.
But when Neil Mason ran off as he confronted him, he turned the knife on Julie instead.
He fled the scene immediately by road, foot and then rail back to south London. That evening, while drinking with his sister in a Peckham pub, he was arrested and charged with murder.
In May 1996, a jury at Winchester Crown Court convicted him unanimously in just under two hours and he was sentenced to a minimum of 14 years in prison.
On appeal, his tariff was reduced by a year in 2004.
Life on licence
Today, Mr Hanson is three years into his release on life licence. The ex-offender has spoken openly about his conviction and what led him to the decision to take another person's life.
Earlier this year, he gave an in-depth interview to Mary Ann Sieghart on Radio 4's One To One series .
I met Charles in a pub near London Bridge a few weeks after that interview was broadcast. Less than an hour earlier, he had finished his latest meeting with his probation officer.
My first question to him was: "How are you?" and the response was: "I'm free, it's another day out on licence.
"I have to be thankful for every day that comes along when I consider what I've done."
But, just five days after his conviction in 1996, his son Neil Mason committed suicide.
His now reconciliatory mood is in complete contrast to his attitude at the start of his sentence.
He said: "I knew what I'd done almost immediately, but I didn't care.
"I had got into prison on a life sentence and a life sentence to me meant I could die in there.
"My son had committed suicide, my ex-wife who I felt was party to what was going on was also dead, but I was still alive.
"That to me was a consolation, I'm alive, but they're dead."
Daughter's shame
A turning point came seven years into his sentence. Mr Hanson discovered his daughter was being bullied at school because of her background by not only fellow pupils, but parents too.
He added: "That's when it started to hit me. To me, the only victims in all this were my two daughters.
"I started thinking, how would I feel if someone had wanted to take their lives? I'd be devastated.
"That's when I started to realise there are ways to deal with problems, but the easiest aren't always the best.
"I would sit in on workshops in prison with offenders and all I would hear them offer as an explanation for their punishment was excuses.
"I used to get bored with that.
"It was a creeping thing that made me accept what I'd done, but my daughter's treatment was certainly a contributing factor."
Despite that acceptance, Mr Hanson admits no amount of time will heal the wounds he inflicted on Julie Hanson's relatives.
He added: "There's a thing called restorative justice where the victim meets the perpetrator.
"In some cases that works quite well, but I'm not sure it works quite so effectively in cases where a person has lost someone so close to them in such violent circumstances."
"Would I want that if someone had committed the same crime to my daughter? I don't think I would.
"So during my sentence and around the time my daughter was being bullied I started to think, 'how would I feel if someone did the same to my daughter?'
"That was definitely a turning point. I started to feel strongly for my in-laws.
"But, saying 'sorry' for the horrendous nature in which I had taken my ex-wife's life doesn't offer an explanation.
"It's not enough to just say 'sorry' and I don't think anything can ever make up for that."
Reflective rehabilitation
Mr Hanson admits he is still haunted by the murder he committed.
His time outside of prison has been marked by a desire to be pro-active and reflect on the consequences of his actions.
Not only is he a convicted murderer, but his life of crime began aged nine for offences ranging from petty criminal damage to theft.
At 16, he was sent to borstal for the first time and a disrupted childhood meant he spent time in and out of children's homes away from his family as well as in and out of detention.
In later life, he married twice before meeting Julie Hanson, but his crimes continued including convictions for robbery, assault and credit and cheque book fraud.
Reflecting on his time inside the criminal justice system, Mr Hanson has, in his own words, decided to "turn his back on the criminal sub-culture" he was previously part of.
He has written regularly for Inside Time Newspaper, the national newspaper for prisoners, with articles ranging from the rehabilitation of offenders and how life sentences are interpreted.
He has volunteered at the local crown court advising families after their relatives have been sentenced on what happens after trial.
He added: "I always felt I had the capabilities to do something with my life, but I wasn't prepared to use it. I would pick the easier option.
"A life of crime was always the get-out. I could earn more money in a day illegally than my father would in a whole week."
'Make a contribution'
After 10 years, Mr Hanson moved to open prisons in Somerset and Kent for the closing years of his sentence.
He undertook community work under supervision before being trusted to undertake duties on his own.
When released on licence, he returned to live in south London. Today he reports to a probation officer once a month and lives in his own housing association flat.
He makes a living from odd-jobs painting and decorating, supplemented by his prison benefits.
He added: "I have everything I need. I spend a lot of time with family in London and my brother back in Bournemouth.
"It's not much of a living, but I am on release and that's far better than anything that's come before.
"I could've served 30 years for what I did and I think that would've been justified. I was out in less than 15.
"I didn't want to spend the rest of my life in prison. If I hadn't shown any remorse or thoughtfulness for what I'd done and how damaging it was, I'd still be there today."
And what are Charles's hopes for a continued life on the outside?
He added: "I just want quality of life. I've got that now that I've moved away from the criminal life I used to lead.
"I want to make a contribution towards my daughter, show her that I'm not the person that used to be portrayed to her and I'm like everybody else.
"I'm a person with failings and big ones at that.
"I just want to live out the rest of my life staying in the background and being left to live with what I've done, because nobody else can."