Mudeford cancer mother wins battle for same school for sons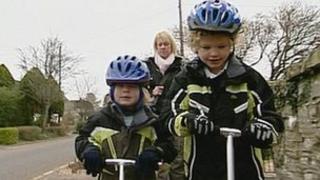 A Dorset mother who has cancer has won a year-long battle for her two sons to be allowed to attend the same school.
Michelle Amey's son George, four, had been refused a place at Mudeford Infants School in Christchurch, where his brother Charlie, seven, is a pupil.
Mrs Amey was told the school was full and they had moved beyond the catchment area but an independent appeal ruled George could go to the school.
Her cancer means she cannot drive and has to take the boys to school by bus.
Mrs Amey said: "I'm absolutely ecstatic - I burst into tears when my husband told me.
"We're very grateful for the support we received from our local MP Chris Chope who passed the matter on to education secretary Michael Gove."
'Settled and happy'
Earlier Dorset County Council had said there were 12 children above George on the waiting list for Mudeford Infants School and it would be breaking the law if it allowed him to jump the queue.
The council had offered places for both boys at another school but it was further away.
Mrs Amey said: "We were 200 feet outside the catchment area for Mudeford Infants. My brain tumour means I'm not allowed to drive and the other school was further away from where we live, so getting there would have been an issue, as we didn't want to move.
"Charlie was settled and happy at Mudeford Infants and with all that's going on with me, we wanted security, as George is quite sensitive."
Mrs Amey was diagnosed with cancer five years ago.
Last year a scan revealed tumours in her brain, liver and adrenal gland.
She is no longer allowed to drive and has to walk and ride a bus to get to both schools in the morning.