London 2012: Weymouth Olympic stones illuminated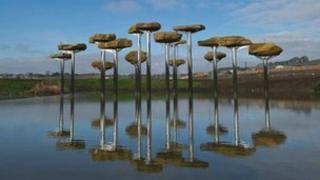 A sculpture created to mark the 2012 Olympic Games in Dorset can now been seen at night following the installation of lighting.
The Jurassic Stones sculpture is a collection of 16 prehistoric boulders mounted on steel plinths on the approach to Weymouth and Portland.
They have been installed near the Jurassic roundabout at Littlemoore.
The low-energy spotlights, donated by General Electric, will illuminate the stones until midnight each evening.
The project, funded by Arts Council England, Dorset County Council and Weymouth and Portland Borough Council, cost £335,000.
Each boulder weighs between two and nine tonnes and was formed between 65 and 160 million years ago in an area of the county that would have been a tropical lagoon.
The sculpture was designed by Devon-born artist Richard Harris and commissioned by the Weymouth and Portland Partnership as part of arts projects in the town ahead of the games.
The other projects include new lighting on Weymouth seafront and community designed deckchairs.