Olympic gold winner Charles Bennett remembered in Shapwick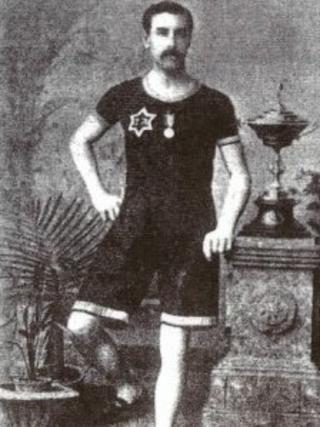 The first Briton to win an Olympic gold medal in athletics is being honoured in his home village in Dorset.
Charles Bennett, from Shapwick, won the 1,500m at the 1900 Paris Olympics in a then world record four minutes and 6.2 seconds.
A series of eight, one-mile charity road races take place in the village on Sunday to celebrate the Olympian.
They will mark 112 years to the day when he claimed his second Olympic Gold at the games for the 5,000m.
'Fitting tribute'
Train driver Mr Bennett, known as the Shapwick Express, also clinched silver in the 4,000m steeplechase.
He worked on the Bournemouth-to-London Waterloo line and trained with the Finchley Harriers in north London after work, as there were no facilities or a running club in Shapwick.
Mr Bennett's grandson, Chris Bennett, will be presenting winners of the event with their medals, along with Commonwealth athlete Roger Matthews and veteran members of the Finchley Harriers.
The 68-year-old, from Bournemouth, said: "I am over the moon about the races.
"It's wonderful for my grandfather to have such a fitting tribute."
Mr Bennett, who was four years old when his grandfather died, said he had no memories of him when he was alive.
"As a family we just have photos of him - no medals," he said.
"As the family fable goes he probably sold all of his medals at some stage and put the money on the horses.
"Of course if he'd have kept them, they'd be worth a fortune now."
Injured paratrooper Ben Parkinson, who carried the Olympic flame in his hometown of Doncaster, will be taking part in the Shapwick races, near Wimborne Minster.
L/Bdr Parkinson was seriously injured in a bomb attack in Afghanistan in 2006.
He is patron of the charity Pilgrim Bandits which will benefit from all profits raised on the day.
The Charles Bennett Olympic Mile event is being organised by Voice of Shapwick, the village community group, in association with Bournemouth and Wimborne Athletic Clubs.
The races, which are set to attract about 250 runners, start at 12:30 BST.
Bennett died in 1948 aged 78 while working as a publican in Kinson, Bournemouth.