London 2012: Rail bosses urge spectators to drive to Weymouth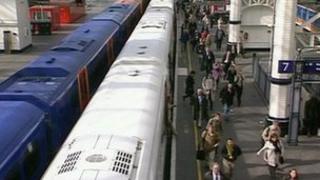 Rail bosses have recommended that spectators travelling to the Olympic sailing events in Weymouth go by car.
South West Trains has warned there could be significant disruption during the Games, with an extra 80,000 passengers a day on its network.
The firm will provide extra services as it runs at up to 40% extra capacity.
But the limited power supply on the line to Weymouth, which was electrified in the 1980s and has a single track on part of it, will affect services.
South West Trains managing director Tim Shoveller said: "We'll be running diesel because we can't run electric because of the power supply problem so the park-and-ride is the primary way people are being advised to get to Weymouth for the sailing."
Asked if South West Trains could be overwhelmed, he replied: "Yes, we will just have to be honest with passengers."
Fleet of coaches
Most trains to Weymouth will be five carriages long, instead of the eight or 10 used on South West Trains' other routes out of London's Waterloo.
Stagecoach will have a fleet of 20 coaches on standby at Bournemouth railway station, which could be the end of the line for some passengers, who will have to travel on to Weymouth by road.
But event organisers believe less than one in 10 visitors to Olympic events in Weymouth will travel by train.
Rail consultant Barry Doe said: "There was no financial justification whatsoever to run anything longer than five [train] cars to Weymouth.
"Trains that length are never required west of Wareham, apart from something like the Olympics, which let's face it, is something like three weeks every 150 years - it's the equivalent of suddenly building a motorway to Weymouth, just for the three weeks."
About £100m has been spent improving roads in the Weymouth area, including a relief road around the congested outskirts of Broadwey and Upwey, as well as widespread changes in the town centre. But the railway has not received any extra funding.
Mr Shoveller added: "The Olympic events in Weymouth have been designed around the private car, not around public transport."