Vulcan bomber set for Bournemouth Air Festival display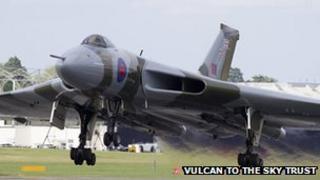 The last airworthy Vulcan bomber is to make two appearances at this year's Bournemouth Air Festival, according to the charity that owns it.
The Cold War-era Avro Vulcan XH558 had been due to fly at last year's event but had to pull out because of a fuel leak in its tank.
The Vulcan To The Sky Trust, which manages the 52-year-old aircraft, said it would appear on 1 and 2 September.
It is 60 years since the first Vulcan took to the skies.
It was anticipated that the aircraft would make at least one appearance at the 2012 Air Festival but the trust said sponsorship from Wimborne company AIRglide and Vulcan's business partner, Action Aviation, meant it could fly twice.
Jon Weaver, the Air Festival's director: "Every year it's a bit of a struggle and for one reason or another it's always a bit hit or miss with it but it is a great attractor.
"I was up at Fairford a few weeks ago and I saw it there take off and fly and it was looking very good and very positive."
He added: "Fortunately Vulcan To The Sky managed to get a local company to sponsor the Saturday so we've been very fortunate that we've got it for the two days."
Aborted take-off
It costs £2m a year to keep the XH558 flying and the trust relies on fundraising and income from airshow appearances to fund it.
It first flew in 1960, and its restoration began in 1997 at a total cost of £7m.
It has been appearing at UK airshows since 2008.
In May two of its engines were severely damaged during an aborted take-off at Robin Hood Airport in South Yorkshire.
Last year's Bournemouth Air Festival was overshadowed by the death of Red Arrows Pilot Flt Lt Jon Egging, who was killed when his aircraft crashed into a field near Bournemouth Airport on 20 August.
Flying was also cancelled on the first day after heavy rain caused flash flooding in the town.