Siren volume lowered on Twin Sails Bridge in Poole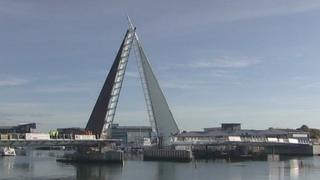 The volume of the sirens on a Dorset lifting bridge will be turned down following complaints from people living nearby.
The sirens on Poole's Twin Sails Bridge sound to warn people when the barriers are raised or lowered.
Poole Borough Council have received complaints that they are too loud and disturb people early in the morning and at night.
A council spokesman said safety will not be compromised.
'Disturbance'
The £37m bridge opened to traffic in April. It connects two areas of the coastal town across the Backwater Channel between Hamworthy and Poole port.
Jim Bright, strategic director at Poole Borough Council, said: "Some issues will only come to light when the Twin Sails Bridge has been operational for a while.
"It's now evident that during quieter periods of the day the volume level of the warning sirens is causing some disturbance to local residents.
"We are confident that the adjustments being carried out will minimise the impact on local residents while maintaining the highest safety standards possible for all road users."