Olympic Nowhereisland arrives in Weymouth Bay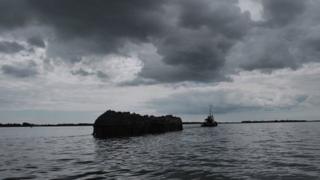 A controversial art project has arrived in Weymouth Bay in time for the start of the Olympic sailing events.
Nowhereisland, part of the Cultural Olympiad, is a sculpture made from material salvaged from a retreating glacier in northern Norway.
MP Geoffrey Cox has previously called the £500,000 project an "astonishing folly".
The self-declared utopian nation has a travelling "embassy" signing up "citizens" on its tour.
Artist Alex Hartley said: "It makes us think about nationhood. That other landscape sits and makes us think about the island that we live on."
Devon MP Geoffrey Cox has said he believes the £500,000 could have been better spent elsewhere.
Speaking in June, he said: "I would have much rather seen individual artists and community arts being supported rather than the astonishing folly this project appears to be."
The Arts Council insisted the Cultural Olympiad was one of the reasons London's bid to host the 2012 Games had been successful.
Producer Claire Doherty said: "I'm really proud of the Cultural Olympiad and the incredible cultural experiences we are having this summer.
"We've been working with schools and community groups across the whole region.
"You just have to look around to see what this project means to a lot of people."
Nowhereisland is due to sail on to other destinations around the South West during the rest of the summer.