Weymouth setting trend for Olympic sailing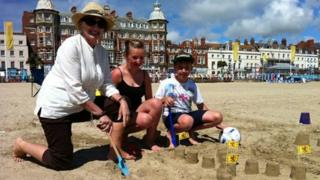 When Weymouth starts trending on Twitter you know it must be a special day for the seaside town.
Along with neighbours Portland, this is the moment it has spent years preparing for - the start of the London 2012 sailing events.
The main draw on day one was undoubtedly Ben Ainslie as he began his quest to become the greatest ever Olympic sailor by winning his fourth gold.
But predictions by the local council of 60,000-plus visitors flocking to the town each day seemed ambitious.
A 15,000-capacity "live arena" on the beach struggled to see more than 1,000 people during the day despite the main spectator area being sold out.
June Stephens, 77, from Preston, Weymouth, said: "I don't think people know that it [the live arena] is there and that it is free.
'Very quiet'
"Plus, we've just found out you can't take your own seats in and when you're 70-plus, getting up off the ground can be a problem."
Julie Pardoe, 49, from Weymouth, said: "It's quite sad that people aren't taking advantage of such a momentous occasion.
"It's been very well organised and lots of things down here are free.
"I think quite a lot of people have been frightened away by the media hype, it's not down to the organisation.
"Our friends have come over from Hayling Island, they were expecting serious congestion and the signs on the motorways told them to expect delays, when they got here it was very quiet."
Claire Arnold, 31, from Bournemouth, said: "We have been given the impression that we must stay away because it will be heavily congested.
"We were actually on our way to Abbotsbury, but as the roads seemed so quiet we headed to Weymouth and can't believe there aren't more people here."
Helen Taylor, 48, from Bradford-on-Avon in Wiltshire, said: "We had been expecting over-crowded stations and mayhem but the train journey was fairly quiet - it's really surprising."
'Good turnout'
Ben Rousell, 36, from Misterton, Somerset, said: "It's really quiet for Weymouth on any normal sunny Sunday, let alone for the Olympics.
"We got the train down because we thought the roads would be busy, but we saw the new link road [Weymouth Relief Road] from the train and that was more or less empty."
Roger Harris, Olympic ambassador at the free Weymouth and Portland Live Site, said the numbers were pretty much what they had expected.
He added: "There's a good turnout... but we would always like to see more."
For those who did make the trip, the overall mood was one of excitement.
Simon Rogers, from Dorset, said: "I can't believe it's finally arrived - we've been gearing up for this for years."
The 46-year-old from Shaftesbury arrived with his wife Claire and their twin boys, Miles and Thomas.
"It's very good for Dorset - it's already a great tourist destination and the Olympics can only encourage that even more," he said.
Five-year-old Thomas said he had been learning about Ben Ainslie at school.
'Get hooked'
While another five-year-old, Freddie Stern, from Lymington, Hampshire, had his face painted for the occasion.
He said: "It's all very exciting, I love Ben Ainslie."
Louie Richards, 61, from Crewkerne, Somerset, said he could not afford to take his family to London so instead opted for the sailing events.
"It's fantastic to have this on our doorstep - we had to take advantage of it," he said.
His wife Sue, 51, and their 10-year-old son Jack admitted they had never even watched a sailing event before.
"I'll be watching it a lot from now on," Jack said.
Mrs Richards said it was a "once in a lifetime" opportunity.
"We've been up since 6 - we didn't want to miss anything," she said.
"The trouble is if we get hooked on sailing after this it could become an expensive pastime."