Dorset landslip: Beaminster Tunnel area 'unstable'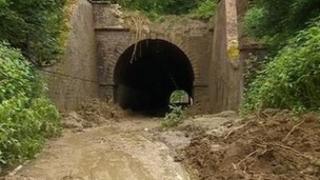 The area surrounding a road tunnel in Dorset where two people died in a landslide has been declared "unstable" by the county council.
Rosemary Snell and Michael Rolfe, from Somerset, were found in a buried car at the entrance to Beaminster Tunnel nearly a week after they went missing.
A meeting was held at Beaminster public hall on Monday evening to explain the response by the emergency services.
Attendees were told it would be several months before the road could reopen.
The public meeting was called to allow Dorset Police, Dorset Fire and Rescue and Dorset County Council to explain the circumstances surrounding the landslip and why Ms Snell and Mr Rolfe's bodies remained undiscovered for more than a week.
Police said at the time of the landslip it was not known that anyone was missing.
Car crushed
The area surrounding the tunnel was checked and the road was closed.
Dorset Fire and Rescue said it would be reviewing its procedures following the incident on 16 July.
Ms Snell and Mr Rolfe went missing on 7 July but it was not until nine days later that Avon and Somerset police alerted their colleagues in Dorset that the couple had been traced to the Beaminster area.
The vehicle, a silver Skoda, was completely crushed under several hundred tonnes of water, mud, bricks and trees.
The Independent Police Complaints Commission (IPCC) is to oversee an Avon and Somerset Police investigation into the way the couple's disappearance was handled.
The A3066 road, which runs through the tunnel, is one the main routes through West Dorset.